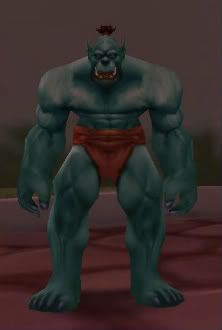 I spend a good amount of time chilling in Dalaran waiting for something to happen. Most of this time is spent wearing as little as possible. Can you blame me? Look at that rockin bod. It's a crime to keep it covered up. All the gear trends these days leave
way
too much to the imagination. Would it kill Blizzard to design some fashion forward, custom couture for those that work hard to keep their bodies at the peak of perfection? Anyway, I digress...I was trolling through Dalaran looking for an afk guildie the other day when an aspiring e-Hag (careful Maya, Mira's gunning for your job!) sent me an amazing link to a product I just had to take the time to share with you today. My plan is to give this thing a try irl, then if satisfied with the results, begin a campaign to get it included in game. So without further ado I present the
Playazon "Hands-Free" Merkin Flashlight.
For a paltry $45 U.S. you too can own this revolutionary advance in crotch illumination:
From their website:
The perfect marriage of form and function - our Merkin Flashlight helps leave something to the imagination as well as providing hands free illumination. This three-bulb, ultra-bright L.E.D. light provides three levels of constant light output and two blinking "lure" modes. The pivoting lamp head allows you to shine light exactly where you want. Comes with two fun-fur hair pieces (anatomical pink and arctic white) and five strips of Opti-Tape 42*, an extended wear toupee tape that provides up to six weeks of continuous adhesion per application. L.E.D. light runs on three AAA alkaline batteries (included.)
Ok. A few things. I can't figure out the gender of the model in the picture. Is that a chick with large thighs and no hips? A dude with no body hair and a small package? Still not sure. (Please feel free to comment with your opinion and justification!) Second, why would you ever turn this baby off of "lure" mode? I wish every article of clothing had that! And what's with the tape providing "six weeks of continuous adhesion." Are you not suppose to take it off in that time? Is the light shower friendly?
On a further note, the warning about the tape is slightly ominous:
WARNING
: We strongly advise NOT to use this tape as an impromptu waxing substitute - IT CAN REMOVE MORE THAN JUST YOUR HAIR!
Sweet Jesus. That would be interesting. I'm willing to bet however that if you have $45 to spend on this fine piece of...ingenuity...you have the disposable income to get your own wax.
Other than these minor concerns, this is clearly an excellent product, so I'm gonna go ahead and place my order to get the irl test drive going. I'm going to need your help however in getting this implemented in game. Would it be a tailoring item? Engineering? What would the mats be? Something to think on for sure.