Here's some random information that I wanted to get out there shotgun style:
1) I'd like to do a recurring "Ask a Homo!" style post where I answer questions from you the readers. For this to happen though I need...well...questions from you the readers. So hit me up! Dornilust@gmail.com gets them to me...or Dorn@vtext.com gets them to my cell. Just please don't expect me to be funnier than Mario Cantone when he did a similar thing for Chappelle Show.
2) I started this blog with 2 goals in mind. The first was to help quit smoking. The idea was that instead of lighting up when I got the urge I would do something blog related. This proved much more helpful than my first plan (after about the 6th craving I thought my dick was gonna fall off) and has worked very well so far. I've been smoke free since April 1! My second goal for the blog was to meet more gay WoW players. So far so good! I've made the acquaintance of several so far and actually had some hot cyborz with one of them. (thanx Kerp...it was fun)
Although both those reasons for blogging are ongoing motivations, I'd like to add a 3rd purpose. I want to turn this blog into a community effort. Fagcraft deserves an arsenal of queens to blog on
all
aspects of the lives of homosexual gamers. Maybe you already blog but want to keep yours "spreadsheet theory crafting" based. Maybe you're in the closet and want to blog anonymously about the hate you run across. Whatever floats your boat...come let your freak flag fly. If you can make it funny, gay, and gaming related then I got an author spot for you no matter your gender or orientation. If you think you'd like to join the team shoot me some mail!
3) The Blizzard in game gaydar seems to be malfunctioning. It's labelling me as a drag queen.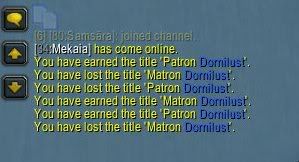 4) I spent some time today mapping out tagging options so my posts would be easier to sort through. When I finished however, every post was labeled "gay." This apparently defeats the purpose...so I'm gonna have to come up with a better plan.
5) While I was not thrilled Allison didn't make the top 3 last night, hottie Kris did!!!!